24 Sept 2020: Swallows Bob Massey Trophy
Published 12:44 on 24 Sep 2020
The Bob Massey Trophy Weekend
We've been waiting for a bit of a sailable blow for weeks and we sure got it on Saturday - with sun too and a virtually empty harbour - save for few a 14's careering around. First blood went to Osprey and from start to finish - from round the windward mark (Wear - NE F5) and despite being initially blanketed on the long planing run against the monster spring tide but escaping once more to assert their 3UP just re-launched superiority in the feisty conditions. Solitude finished strongly but was pressured throughout by 2UP Gwaihir.
In the b2b R2 the 10 boat fleet had even more excitement approaching the top of the 5.2m tide and with the breeze up a notch. The same W/L formula took the fleet back to Dunes - often or more abreast save for Marengo (Philip Pascall) who benefitted hugely from sliding away round East Head and with a marginally better angle into Dunes rose from 5th to lead there. However this race actually belonged to Skua - improbably perhaps as they were sailing 2UP and kept Osprey at bay after they had gobbled up the 2UP Gwaihir on the final beat to the finish. Win or lose it had been a great day's sailing.
Sunday was different - the sun still shining, the wind had moderated to F3 but remained NE- and Osprey was sailing just 2UP. Did that make any difference? No! With Skua not sailing and Mimie Currey driving Gwaihir and Mike upfront learning the ropes there was a different fleet dynamic and in R3 the tussle for 2nd spot was continuous despite it being a contest between two lightweights and the three trim lads from Solitude - and the lightweight 2UP team won that battle!
With the Trophy already won Osprey stayed on for R4 to complete a minimum points tally for the Trophy with Solitude finally overcoming a tiring (and hungry!) Gwaihir. Our thanks to Lavinia Massey for presenting (well in a socially-distanced way) the fine picture and end-of-line ISC glasses supplemented with Champagne for the winners and more fizz for the valiant Gwaihir who had sailed the whole weekend 2UP.
1st Osprey (James Hartley, Jeremy Sibthorp, Rob Sutherland) 3 points
2nd Solitude (Andrew Reid, Anthony Lunch, John Houghton) 8 points
3rd Gwaihir (Mike Wigmore. Charles Hyatt/Mimie Currey) 9 points
Tony Glover
Photos by Tony Glover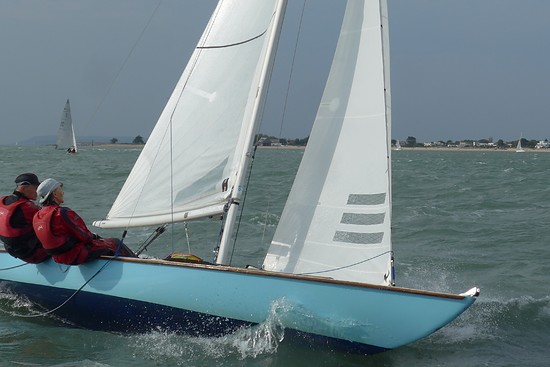 Last updated 16:24 on 5 August 2021