30 May 2019: Swallow News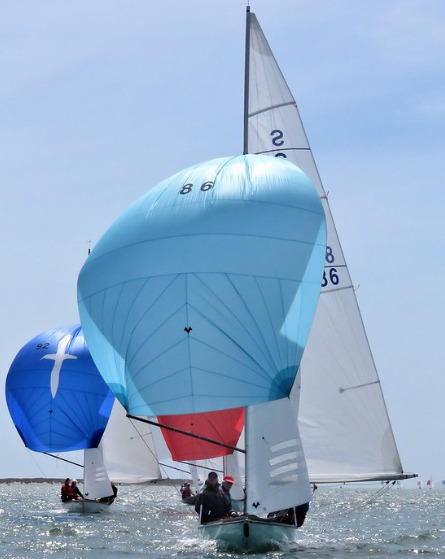 Published 14:23 on 30 May 2019
Norman Moore Trophy 2019
This Edition's Salty Wisdom
Below, anon.
Norman Moore Trophy 2019 ... were the Ongoing Oligarchy Overcome?*

First raced in 1957 (and won by the previous Blue Phantom) we at long last had welcome SW breezes, sunshine, and a very competitive 17 boat fleet. Subtract morning LW, other big keelboat fleets and some 'interesting' courses and what do you have? A partly flawed classic of the 'Inland Championship' weekend.
In R1 Chris Fox in Migrant nailed the BV start and tacked off to Pilsey whilst Houdini went t'other end and kept going over towards East Head and er, onwards. Nothing wrong with that in normal circumstances but N had been (unnecessarily) inserted before Dunes and Skua along with a few others forgot and hugely overstood Sandhead. Meanwhile over on the Pilsey side Migrant and Osprey were short-tacking to take every possible advantage from the now-flooding tide. There is little you can do when the Prof is out in front but Houdini came back up to 3rd a course error that was to cost in the final countdown.
What's this - Migrant all packed up at lunchtime and before R2?! The mega-syndicate could not man the craft possibly saving themselves some of the drama which ensued. Quite what the RO was thinking of sending three large fleets on a short w/l 'sprint' course (E Head/Astra) in 15 knots we shall only discover in the memoirs but with a 10 minute or so lap time it was carnage rounding H the second time, so all credit to Skua for their skilful victory followed by Gwaihir (Mike with a guest crew) and Osprey.
R3 (now nearing HW) offered the opportunity to escape this mayhem with a harbour tour. To achieve the very necessary and much desired fleet separation we went west and then had 7 consecutive reaching legs. The first was classic very marginal spinnaker - Osprey managed it, Skua and Archon following tried and gave up. The rest had no possibility of flying the kite without a diversion especially boring on the long drag from Mill Rythe to Treloar. The advice to RO's says Swallows 'periodically enjoy three -sail reaching' but obviously the wind direction indicator on BV had stuck about 20 degrees out. Still it appeared to suit Osprey who won for the first time in the series with Skua snapping at their heels and Archon (bless!) in third.
Overnight Osprey and Skua were tied on points a situation destined to continue. This time (R4) with rather more breeze than on Saturday to Dunes, SWP, Mill Rythe and Calvert before starting the homeward trip, all the while in a solid breeze. After an indifferent start Skua dominated this one and ended with a humungus lead whilst Curlew was making good use of their new main (one of several), a crew change and good windward speed but not enough to imperil Skua. Osprey came home third.
So advantage Skua? There were several permutations but without taking any match-racing into account Skua had to stay within 1 or 2 places of Osprey in the w/l Dunes/Peacock R5. Which is what they diligently did until a fudge factor emerged in the shape of Migrant (James Leaver at the helm). With Osprey commanding the front and Skua in second, Skua was the pre-post favourite. Skua went right (Pilsey) up the beats and Migrant left (E Head) each time but there was nothing in it at Dunes. How Osprey must have smiled when Migrant moved into into 2nd place and thereby levelled the score the between the two main protaganists, but now tilted towards Osprey on final race result. 7 points apiece was a worthy conclusion to a titanic contest and it was tough to have to implement the tie-break to produce very worthy winners for the second consecutive year.
1 Osprey (James H, Jeremy S and Rob S) 7 points (new Norths)
2 Skua Harry and Prue R and Nick B) 7 points (Hyde/Batt)
3 Gwaihir (Mike W, James C and Carol T) 15 points (Hydes)
4 Curlew (Simon S, Tim B and Guy M) 22 points (Hydes?)
5 Archon (Malcolm G, Caroline M and Elizabeth P) 26 points (New Norths)
* No. Ed.
Wednesday Evening Racing (WER)
Once a month we provide the race management team of three people as our humble contribution to these low-key fun races. If you live within commuting distance or can find the time from further afield to drop by that would be great (an informal supper follows). So if you fancy a spot of race management (either PRO, ARO or SBD) on the first Wednesday of each month that would be very welcome.
It behoves us ...
We have occasionally been exasperated by the tardiness of the 14 fleet in arriving late for their start. We must also get to the start in good time ourselves! Not for the first time this year we have had word from PRO's that a minority of the Swallow fleet are late and causing unnececesary postponements and consequent delays to the later starts. Possibly we need to be more alert to the tide and wind strength, and to the actual location of BV? One of these (quite soon) days the PRO will start on time willy-nilly. A late return from morning races is no excuse. You have been warned!
Obiter Dicta
The cheque books have been out! So many flashy new sails just out of their wrapping.
Swift was checking the course when they broad-reached on to the putty near Astra. After rather ignominiously being towed off backwards JIT, they then made a storming start.
There will be a parliamentary commission and a judicial review of some aspects of the race management (read the Course. Ed)
James H had been praying for the (W)SWesterlies to return, and they did in grand style. Now everyone wants a Rob upfront ( ... 'know what I mean 'arry'. Ed)!
That said do you remember when the girls in Marengo carried all before them (so to sp) in heavy or light airs?
Full marks to Carol T for overcoming a crashing migraine on Saturday to support Gwaihir once more on Sunday and for administering urgent physio to Simon H on the Club lawn on Sunday too! (photo withheld!)
So many boats tied at the end not only upfront but three from 5th-8th too.
A convivial gathering on Saturday evening but in competition with a big Bosham bash.
The dead parrot sketch? Have you heard the one about the dead Swallow? Ask Carol!
Diary Notes
The forecast for this weekend (especially Saturday) should encourage us all out to play (surely now fully recovered from the NM exertions?) Sun and 10 knot SW!
Who is going to wrest the fabulous Shippam Trophy from Skua on Regatta day (8 June)? Don't forget there is a normal Swallow race in the morning. OH on the Sunday too.
After a minor deviation last year the Ladies Medallion (LM) is back (Saturday morning 15 June). No ringers please.
Please don't forget to book for the PW social events (link here)
Please check your safety gear inspections will happen.
Swallow News - Early May 2019

RYC de Belgique Plate 2019
"When the rains before the wind, then your topsails you must mind
But when the winds before the rain, hoist your topsails up again."
Captain Nares
The 'Belgian Plate' May 4th/5th 2019
A silver platter presented to ISC after the RBYC visit for a largely windless weekend in 1973.
A weekend of record-breaking contrasts 46 years on! Welcome to the Winter Series (in May!) Saturday's max was just 8C and with three 27 knot gusts in the afternoon, somewhat penetratingly cool with it, but mercifully dry (at the back end anyway). The water was 4C warmer!
Where was the ODM for R1? Somewhere on the 'wrong' side of BV in the bright sunlight perhaps? Skua started way down but Harry 'Houdini' Roome recovered steadily to record an unlikely victoire (given that they were the lightest crew) and possibly benefitting from the confusion about the windward mark. Osprey (just possibly at the other end of the spectrum) came home 2nd and the evergreen youngsters in Swift were 3rd impressive for their first sail of the year.
In R2 Osprey closed on Curlew tacking up the Thorney Channel and then making the right choice on the downwind leg to E Head slipping past and was gone. Moments after crossing the line of the shortened course Curlew's mainsail clew exploded! Gwaihir (Mark for the weekend) ground out a 3rd. We should mention Archon's spectacular wipeout (or two) and Chris C's subsequent trip to A & E (worth it just for the paramedics who attended at ISC!!). All was well - thanks to Hugo F's prompt actions in the SB and Chris's own 'crash hat'. A convivial gathering of 35 in the jubilee room (a tight fit) for the supper and a good, sensibly-priced menu, all much enjoyed.
What a difference a day makes! Still perishingly cold and mostly overcast but with much lighter winds starting at about 10 knots and petering out altogether by mid-afternoon. Houdini was imperious in R3 with the largest fleet of the weekend (15 boats) behind and lead by Curlew using some new Batts for the first time. Osprey did well to finish 3rd and Marengo finally appeared at the top end in 4th (actually ending with 3 x 4th places).
So as at the end of Saturday's racing so too with one final race to go three boats all within a point of each other and a chance of winning the platter. In fact it turned out to be rather anti-climatic as the die was cast at the start and unless you went to Pilsey Point for tidal shelter you were history when the NNE wind died on the Itchenor side - and none of them did, so all three of them had relatively poor results. This should not detract from the superb way that Svala (Hugo helming) hunted down Solitude in the Thorney Channel and then extended until the course was ultimately shortened at Peacock with the now rampant ebb requiring the whole fleet to be towed home. A weekend of climatic record-breaking and contrasts with Osprey securing her first 'premier' trophy.
1st Osprey (James Hartley, Jeremy Sibthorp and Rob Sutherland 6 points) - below
2nd Skua (Harry and Prue Roome with Helen Williams 7 points)
3rd Curlew (Simon Slater, James/Peter Baron, Tim Boswijk 9 points)
When did you last see trophy results with no mention of either Gwaihir or Marengo?!
Charles Hyatt et 'Le Loop'
We wish the newly-sylphlike Charles the very best of luck in his imminent two-wheeled adventure. He breaks off from un déjeuner très agréable avec Jean-Paul Satre aux Les Deux Magots, Saint-Germain-des-Prés to write as follows:
"As many of you know, I am participating in Le Loop (formerly known as the Tour de Force) this summer, an event in which I will be cycling the route of this year's Tour de France one week ahead of the pros. It is a total of 2,146 miles averaging 111 miles per day for each of the 19 non time-trial days, 21 days of cycling in all with just two rest days.

I am raising money for the amazing William Wates Memorial Trust, which supports charities which help troubled young people in various ways. I am paying the full cost of my participation in the event myself, so every penny of the money I raise will go direct to the charity. I would be very grateful if you would consider sponsoring me.

Full details are at this link.
https://uk.virginmoneygiving.com/CharlesHyatt.
Note: the Le Loop Blog offers this advice for any future takers ...
"Riding multiple stages of the Tour de France is a massive undertaking not only athletically, but also logistically and, perhaps most importantly, mentally. With an experience as all-encompassing as Le Loop, there will always be a few surprises lying in store. Riding back-to-back 200km days sounds daunting, but riders often find the real challenges are rather more subtle than that or that aspects of Le Loop they'd been dreading turn out not to be so bad after all."

John Marsh
Several from the fleet attended John's funeral on Wednesday 1st May.
Some mentioned an eye-catching 'Swallow Picture' being part of the stained glass in the church in Arundel. Initially imagining a Svala or Hilbre under full sail aross the distant Solent we were still delighted to receive the attached picture - thanks Mimie!
Diary Notes ........
Will the ISC team manage to retain the TR Trophy against the OCSS team on Sunday?
The WER (Wednesday Evening Series!) continues on the 15th (start 18.10)
B2B racing on Sunday 19 May and 2 June at spring HW (nb starting after the Sunbeams at 10.40 on the 19th)
The Norman Moore over the late May BH weekend (with a dinner on Saturday evening). All boats should make an effort to be part of this event both on and off the water!
ISC Regatta on Saturday 8 June (with a morning TH race as well) and OH on the Sunday (for the OCSS Bowl)
The PW Social Programme is available here. It contains an error - Wednesday includes the words 'light-hearted competitions in tennis and croquet'. The wording will be changed! https://gallery.mailchimp.com/5ccc535e6f338d9ccbf3e3c8c/files/c149d480-c4d8-4fd6-9604-3cee7c4902a7/Points_week_social_events_2019_Draft.pd
Last updated 16:24 on 5 August 2021