Itchenor Summer BBQ
Published 12:04 on 22 Jul 2022
We had our first joint event with London Corinthian Sailing Club last weekend.

Nine yachts, mostly chartered by London Corinthian, visited us from Hamble after a swim stop on East Head and the Harbour Master gave us dispensation to allow six of them moor on our new pontoon. (We only have licences for our permanent pontoon berths so are not allowed to have boats overnight, other than small tenders, without Harbour Master permission).
Another 20 Corinthian dinghy sailors joined us on Saturday morning and were able to crew in the keelboats. They all had a fantastic time. Many thanks to the Sunbeams, XODs and Swallows who took them out.
After the traditional exchange of burgees between their President and our Commodore, the ISC members joined for a BBQ making over 135 people to enjoy Dannys great food followed by dancing to the Snake Heart rock band.
Danny then prepared a magnificent full English breakfast for some 80 Corinthian members on the Sunday morning. Thanks to Danny for helping make this a very special event.
Thanks to the organisers for this event: LCSC team of Rear Commodore Offshore Cassie Gleeson and Deborah Ley and the ISC team of Philip McDanell and Anna Goodman.
The Corinthian members would love to do this again next year and many asked what they could do in return maybe an event at their clubhouse in Hammersmith ideas are welcome.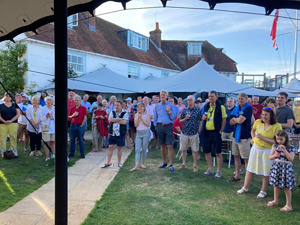 Last updated 13:43 on 1 August 2022