Home
/
News
/
"Scooping" XODs - Jonathan Clark reflects on 37 years since his first sail in the class
"Scooping" XODs - Jonathan Clark reflects on 37 years since his first sail in the class
Published 08:29 on 12 Jun 2020
As I was saying; can it really be 1983 that I first stepped into an XOD with Ivan Coryn to look at the very latest in Hood sail design? As a trapeze boat crew all I can recall is being surprised that when we pulled up the kite on that very windy weekend we did not seem to go a whole lot faster. Sadly I cannot recall which XOD it was that we sailed and that is a shame.
So we roll the tape forward to four years ago and a chance phone call from an old friend Nigel Buckley who asked if I would be interested in sailing at the front of an XOD named Rachel with Penny Fulford on the helm. Somehow that just seemed like a really great thing to do. And a few weeks later I was introduced to XOD 127, a Hamper, and off I went to learn a new way of slow sailing which somehow seems in total keeping with the times.
As I wandered around the marina in Cowes and looked at these incredible boats with their great histories a plan was hatched. Now I have always had a hankering to go fishing on the hill lochs of Scotland and the idea of bagging Munroes was an ever present. But as I wandered I wondered if I might "scoop" some XODs. Now for fans of the Fells there is Wainwright so I found that for fans of "Scooping" XODs Richard Fields has written the guide to the XOD class 1911 to 2011. So guidebook in hand the journey began.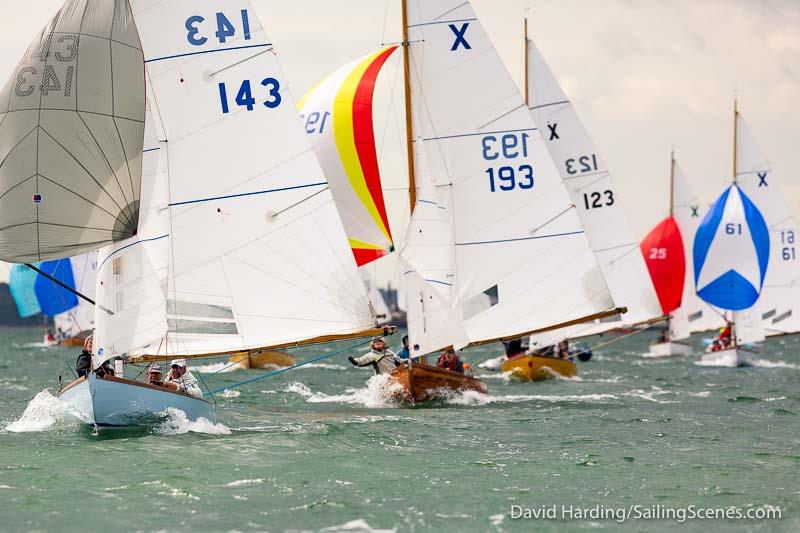 Year one was spent in the Hamper but ended with a few trips out in a Woodnutt - and yes there is a whole language of builders to be learnt. One thing I noticed was that Athena, XOD51, seemed to be easier to tack and keep its speed than Rachel had been. Already in my first year in the class I had discovered that whilst it did not seem to be possible to go faster than others you could sure go slower. This was what I would call a disappointment as most of my sailing has been built on the basic principle that "boat speed makes you a tactical genius". The idea that we might have to consider tactics was a paradigm shift for sure and I am not yet sure if I have come to terms with it.
And so into year two and the continuing effort to "scoop". Access to Itchenor SC was going to help with the project and I continued my journey in Rachel with much to be enjoyed there. So in my second year in the class I found myself sailing with Roger Yeoman in Xcitation amongst others who helped me on my journey through the XOD encyclopedia. John Tremlett let me loose in Lass and Itchenor Points Week saw me booked to test three more XODs. Sailing Thalia I saw some of the most precise tacking of a boat I have ever seen and so my adventure continued.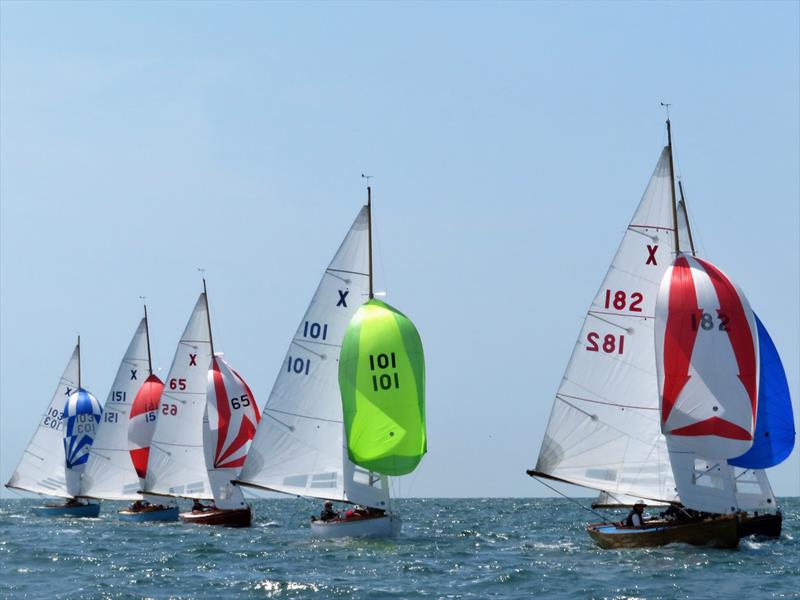 Year three was more of a patchwork quilt as I went back to being "rent a crew". I clocked up some more Woodnutts which I learnt were the boats to have if you did not have a Newman, a Burnes or a Berthon. So I sailed a Latham, a Hamper, a Lallow and various Woodnutts. And year four brought more of the same. More Woodnutts a Latham and a Lallow - never sure which was which I have to own up. I have inspected some full jibs and some very full jibs. I have looked at multiple versions of the what looked like some really neat mainsails and I have seen some spinnakers flown sideways with no impact on boat speed.
In the process I have now clocked up some 19 different XODs and have learnt just how challenging (and intensely satisfying) it is to sail these incredible boats I have spent time trying to anti-foul and how to understand why we pull the rig forward so far as we head downwind. There are more XODs to test and more builder"s work to admire and so I will come back to that as I develop this scooping theme. What I have noted is that by contrast to other classes I have sailed owners of XODs keep them, know their history and guard them with care.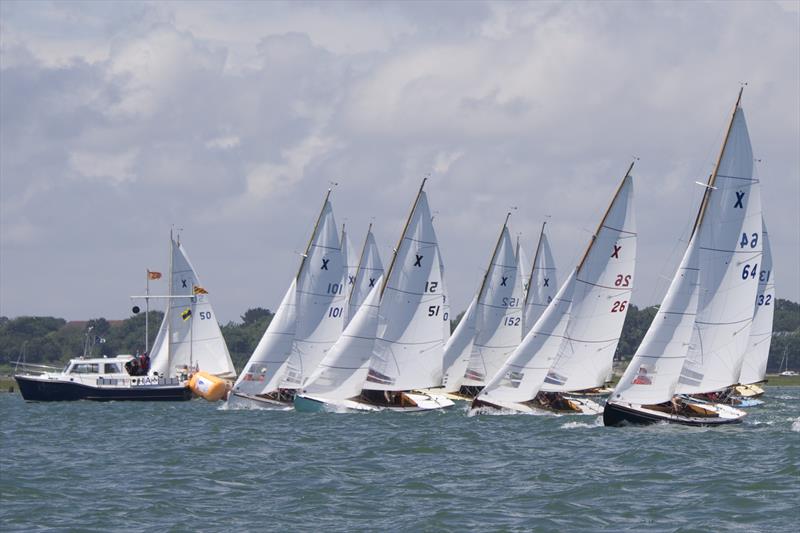 Sadly I missed the class sponsored end of season lectures by James Meaning and John Tremlett as to the differences in hull shapes and how this might impact performance so I don't know which hull shape I should be looking at to be the fastest. I know I have sailed a couple of boats that just seemed to keep ticking along whatever the winds threw at them but can I say I have found a boat that is faster than the others? I have sailed with helms persons who had a great affinity for their boats and how they were set up but were the boats faster or was it those on the stick at the back? Best of all we managed last year to get two Jonathan Clarks in the same boat and that has to be a neat thing to do. So much of my research to date suggests that there is more about the team in the boat than the hull shape. Maybe it is about the rig and how it is set up, I just don't know for sure yet. I doubt I ever shall.
This year I was hoping to find out but maybe it will have to wait as I have over a hundred XODs to go. Next time I will put a bit more flesh on the "scooping" I have done and my sense of the individual boats I have sailed. I have several boats in mind to test and surely a Newman has to be on the list. What fascinates me is that possibility that out there is a really quick XOD that will allow me to stop thinking tactics and go back to that boatspeed game.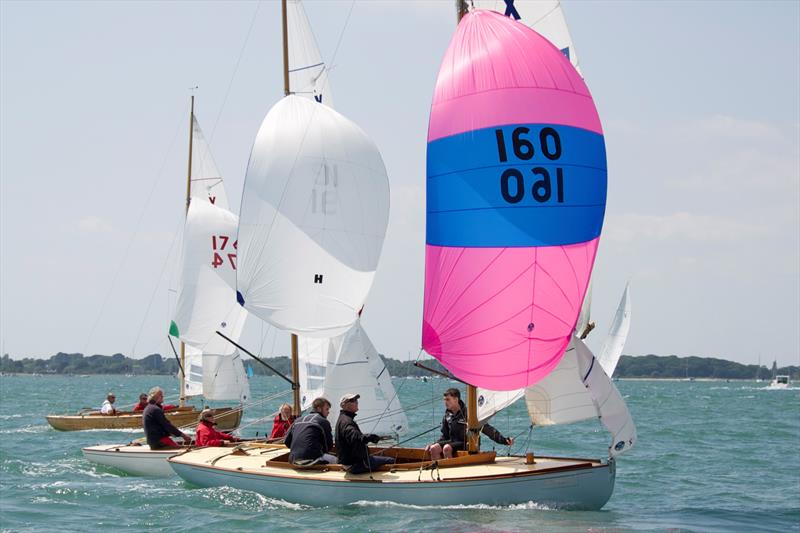 by Jonathan Clark 8 June 2020

originally published on YachtsandYachting.com
Last updated 08:43 on 4 January 2022