Junior Sailing Overview
We've always been a club focused on encouraging and developing our young sailors.
We want our cadets to grow up loving sailing as much as we do. We want them to feel involved with the Club, to gain experience, to be part of a team, to develop responsibility, to be involved in friendly and healthy competition, to learn to thrive in a challenging environment, to connect with nature and be aware of their surroundings. We nurture young sailors, helping them to understand the water and to sail with confidence. We are firm believers in creating a friendly and fun environment for children and teenagers to learn the ropes, giving them room to prosper and grow.
---
Mirrors
Our Mirrors Class has the biggest fleet in the Club and with over 90 boats is the most active Mirror fleet in the country. These robust, versatile and fairly light boats are easily maintained and repaired and can be launched into the water very quickly and easily. We support all standards of Mirror sailing from beginner to club racing to national racing levels. For more details contact: Richard Benson, Class Captain, and see also: Mirror Events Schedule / Mirror News
---
Toppers
The Topper is our junior single hander and is a fun and affordable entry level boat. There is a choice of either the standard 5.3 rig or the smaller 4.2 rig for our younger sailors. We run a regular racing program from April to October on Sundays as well as holding training days throughout the year to hone your skills. As a recognised RYA pathway boat and a popular choice nationally we are fortunate that there are a number of Open meetings held in Chichester Harbour which are fun to join in with and race against people from outside Itchenor. For more details and to join the class WhatsApp group please contact: Milly Bullock, Class Captain, and see also: Topper Events Schedule / Topper News
---
International 420
The worlds top youth boat. The 420 is an established worldwide performance two-person trapeze and spinnaker racing dinghy which holds status as a World Sailing International Class. Its a great youth trainer that allows for learning advanced sailing techniques. With 20+ boats in our fleet at ISC, we have an active racing programme from April to October. For more details contact: Mark Timberlake, Class Captain, and see also: Int. 420 Events Schedule / Int. 420 News
---
RS Feva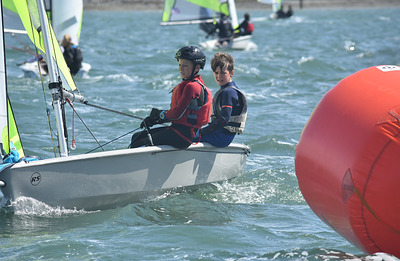 Our RS Feva Class is aimed at children Year 8 (12/13 year olds) and above. These modern boats are exciting to sail with the class growing in popularity. They are approved by the RYA for the RYA onboard scheme. For more details contact: Kendall Massey, Class Captain. See also: RS Feva Event Schedule
.
Useful links: RS Feva Class Association
Rigging videos: Rigging 1 / Rigging 2
Shirley Robertson RYA Feva Handling Tips Series: Tacking / Gybing Spinnaker / Hoisting / Accelerating / Stopping
Having a blast: 30 Knots Sailing / Feva Pitch / Schools week drone footage
Last updated 08:20 on 7 June 2022